UNION POINT CHURCH
2018 / 2019 Annual Report
Since our humble beginnings, Union Point Church has always been about one mission, "Lifting Jesus and Others UP." Now turning the page on our official third year, we look over and celebrate what only a providential and faithful God can do.
We ask as you walk through this report that thanks would well up within your soul. Thanks for what Jesus has done in and through each of us in this family as co-laborers and ambassadors of His kingdom.
As well, we invite you to read through with an ever prayerful focus of laying forward prayers for the upcoming year. Let's pray together that Jesus would continue to do immeasurably more as we seek to Lift Him and others UP.
The Elders of Union Point
As good stewards of all that Jesus is doing, we measure as a means of weighing effectiveness, not as a means of worthiness. Whether it is our volunteers, the number of community groups, partners, baptisms or baby dedications, we find the faithfulness of God in seeing lives lifted with/in Jesus.
Total Volunteers in each service area.
The growth track simply relates how our growth has progressed over the last year, as well the last few years during Easter Sunday. This Sunday gives us good measure on the impact that is being had around us as we lift Jesus UP.
2018 | 2019 Average Weekly Attendance
75 Adults and 23 kids in 8 different Community Groups.
People baptized into the kingdom.
The Exchange (Student Min)

At Union Point, we place high priority in teaching the scriptures. Whether through books of the Bible, connecting with the Narrative, or examining how the Gospel penetrates our lives, we believe the word empowered by the Spirit breathes life into our souls. Click one of the links below to listen in on past series or catch up on the most recent.
We believe it to be God's desire not to see how tall we can build a building or how many people we can get in one building, but how far and wide we can spread the city. We are intentional in raising leaders from within, identifying God's calling on their lives to lead, serve and equip the saints and sending them out to plant other churches.
Our methods and means may change in these efforts, but the Gospel is the driver behind why we seek to see this model spread. It is our hope that in ten years we will see three to five churches planted in surrounding areas, joined together to make much of Jesus in advancing the Gospel.
We hope that this brings a greater understanding of how we should walk out our faith to Lift Jesus and Others UP. As well we hope that it has been an informative insight on how we seek to Lift Jesus UP as a body of believers.
It would be our honor to walk side by side with you on this faith journey to see Jesus Lifted in your life, and to help assist you in His command and call for you to go with the Gospel to see lives lifted.
Dollar amount given towards Wesleyan Movement mission efforts.
Christmas angel tree families provided for.
OCC Boxes Collected:
(66 collected in 2016)
(95 Collected IN 2017)
Dollars given to Support
YMCA
People Reached through
Lift N Treat
Hurricane Florence Relief.
In light of the Gospel, we see that Jesus gave everything as a sacrifice and worship to God. In Jesus, we see God withheld nothing from us but gave all for our sake, for His purpose of reconciliation and redemption. This perspective is the way we continually view everything in our lives, especially when it comes to financial offerings through the local church. Because of your obedience, this year we have seen ministry expanded, local families in need reached and missions|planting efforts funded regionally and abroad. As you read/examine, give thanks to God for His provision and pray beyond into this coming year for what Jesus might accomplish through our humble surrender.

Union Point church operates in accordance with the greater Wesleyan church, and financially functions within their oversight and discretion. As well all financial activity is overseen and directed as a registered 501-3C and by the leadership of the Elder/board team.
it has been for our Point Peeps!! This year our Point Peeps have learned so much about Jesus and about what it means to follow Him. Our mission is to teach kids to: Know God, Inspire love, Disciple others, and Serve our community and church. Our phenomenal volunteers did a wonderful job this past year guiding our sweet kids and teaching them truth each week.
This year we have seen so many new faces, and our Point Peeps Kid's Ministry is continuing to grow! Since we are continuing to grow, we have added 2 more volunteers to our 2nd service Navigator group which has helped us to break the classes down into smaller groups when teaching the lesson. Having extra volunteers has been such an incredible blessing as we work to teach and guide these sweet kids. Last year at this time, we were so excited to announce that we had 30 volunteers in our Point Peeps Ministry. This year, we are thrilled to say that we have over 40 volunteers that faithfully serve in our Kid's Ministry each month!!! We would not be able to do this without these incredible volunteers.
Over this past year, we had a wonderful turn out at our 1st annual Vacation Bible School, an absolutely precious Christmas performance by our sweet kids, several Parent's Night Out events fully staffed with amazing volunteers, and a fabulous Easter Celebration where the kids learned about the resurrection of Christ. We cannot wait for even more opportunities to learn about Jesus and to serve our church and community this upcoming year! We will be hosting our first ever week long VBS in August and are looking ahead to many more chances for our Point Peeps to Know God, Inspire Love, Disciple others, and Serve our community and church.
I cannot even begin to express how thankful I am for the amazing support from our volunteers, kids, parents, and partners at Union Point Church
Mandy Van Domelen
Point Peeps Director
Point Peeps
Volunteer highlight
Someone asked me once
"How can I do something really Big for the Lord! I said " you want to do something really big? volunteer to clean the toilets and work in the children's department. These are the areas that are often unseen but totally appreciated and God sees and will have a present and eternal reward."
Children's Ministry is one of the greatest things we can do for the children, for families in the church and for ourselves. Putting into the lives of little ones and telling about the Lord will never go without a great reward nor return void for any of us . This world is getting more corrupt, and if we put God into their lives at an early age and get the truth to them that Jesus Loves Them and The Bible tells them so, that fact will never return void and it will give them strength and power later in life and now. No matter how bad life gets that fact will be in their hearts and head. My own children have had their own share of troubles and yours will too, but its nice living with the fact that I know without a doubt they are both saved and Love Jesus, and that He's with them always, every step of the way ..
94% of people learned about the Lord as a child . I want to be among the ones that show Kids hope. Don't you?
Don't worry if you don't know what you're doing. Just go and help and in time the kids will teach you everything you need to know ....Keep on Keeping on
Point Peeps
Volunteer highlight
Most everyone knows that service brings self-fulfillment or a sense of peaceful satisfaction. But what is unique about working in the Kid's Ministry is the infectious joy and exuberance that working with each child brings. Children surprise you in the smallest ways. in the eyes of a child it doesn't matter if you are given recognition or are popular. It is the truest and purest form of peaceful simplicity there is: Providing basic needs, snacks for hungry mouths, water for thirsty lips, listening and laughing with them, and showing them the blessing of a grace giving Father above. The Kid's Ministry makes me look forward to coming to church each Sunday.
This year was a great transition year for Community Groups! This was our first year doing Co-Ed groups and with that came a lot of uncertainty. The uncertainty, however, did not last long. We had many new leaders commit to facilitating groups and all have been doing incredible. Many new people have gotten involved in groups this year and have been very consistent which has led to deeper relationships, accountability, and fellowship in Christ. This spring we had 8 groups with over 75 people regularly attending. It has been so encouraging for me to see how groups have equipped one another in their walks with Christ and have lifted each other through hurricane Florence, loss of loved ones, and other difficult times. I am so thankful for all our committed leaders, all those who have been faithfully attending community groups this year, and to our Lord for uniting us so that others may see and hear the good news of Jesus.
Riley St. Pierre
Elder | Community Groups
Community Group
Leaders Highlight
We count it a privilege to be leading a community group. It is a humbling experience as we never fail to leave each meeting feeling like we have gleaned more than we have given. It seems that if we come with a "plan"...something we want to say...an idea where it might lead...instead it is clearly the Holy Spirit Who leads and thus, we are blessed by the UNexpected. As members of our group share their thoughts, perhaps other verses, and personal testimonies, we are bound together by Christ.....amazing since we are all different people! Community group is a "constant" is our life and one that we don't want to miss.
Cindy and Robbie Robinson
The exchange has had a crazy start since we began mid-year, but God's hand is evident. We had a meeting about three weeks ago for input from the kiddos. They expressed that getting to know each other has been a big hurdle, so we have decided to begin our summer gatherings early and focus on fellowship until the fall. We are going to have dinners/gatherings at least once a month, and just grow closer as a group. This is also a great way for students to invite their friends. We have AWESOME kids who are really excited about being the inaugural "Exchange" and that is something worth celebrating in and of itself.

Brooke Guthrie
Elder | The Exchange

everything came together.
The 2018-2019 church year far exceeded any expectation I've ever had for this group of people. We have grown both exponentially and spiritually over the last 12 months. In my last report, I shared that we had recently added an electric guitar player as well as a new keyboard. Shortly after, we were blessed with a new drummer. Aaron had been our drummer up until this point, and I'll be honest, I wasn't too thrilled with the idea of having someone else fill this gap. Luke joined our band and shortly after, everything just simply came together. Everyone meshed so well, so quickly, and so beautifully that it can only be God. In addition to the band and worship leaders, we have also had our sound team grow. People have truly stepped up to take care of things that I didn't even realize we needed! It has been such an incredible thing to be a part of. During this year, we were able to incorporate a steel guitar, which added a whole other realm of possiblities. People's lives are being continuously transformed. We have experienced spiritual growth, leaders arising, healings and miracles taking place, and prayers continuously being answered. We currently have 10 members as part of our worship ministry. I look forward to seeing how it continues to grow.

Lenee' Golden
Worship | Production

Just like to start off by saying that it's been a pretty crazy year for me. To go from not going to church at all (and not really wanting to go let's just be real) to joining a Worship team. The man upstairs has a funny way of making you a part of things you would have never thought in a million years you would be a part of. This band has been a huge blessing in my life and is something I really look forward to every week. The bond we have formed over what seems to be a short amount of time has been incredible. It really makes getting up on that stage every week so much easier knowing you're a part of a group of such talented musicians and singers. And even though I know that our worship is for my man JC and G.O.D., the amount of love and support from the folks that come to U.P. has been amazing and makes me love being a part of the band and church even more.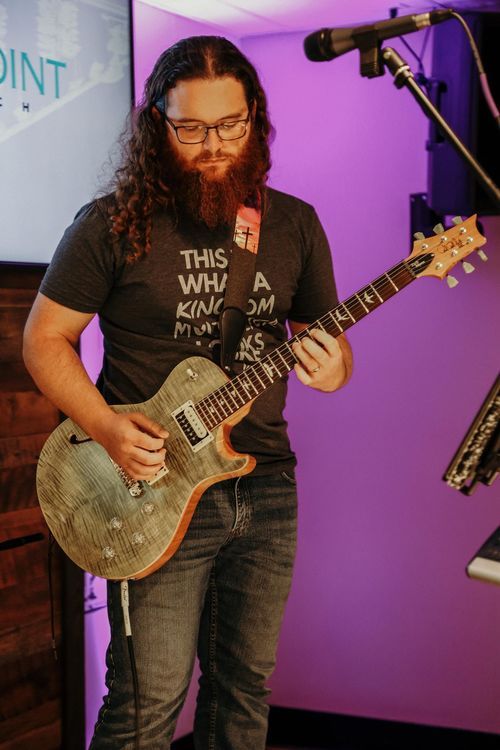 Hospitality
Leaders Highlight
We have been a part of the hospitality team for almost two years now. Since coming to Union Point Church we wanted to find a way that we could fit in, give back and contribute during Sunday services. Being a part of this team was one way we thought we could do that. We always volunteer to make coffee in preparation for first service. We love being able to show up early and enjoy worship practice while preparing the coffee bar. A little bonus that we always love. Making coffee may seem like a small thing, but it has given us the opportunity to meet other people and get to know them better. Being a part of a family means everyone needs to do their part. We are happy to do ours for this family.


How Jesus has impacted my life
I was a troubled man that had a lost soul until one night my stomach started to ache and I started thinking about Jesus/church.
Why? I did not know at the moment but I know now.
I started to research churches in the Morehead Area but then God told me to send a text to Aaron.
I do not know why I even had his number in my phone. I sent a text to see if we could meet and then I bent the knee asking for forgiveness.
I started a new life that day as I realized that I can not go through life by myself That Jesus is the answer.
My Team at Eastman's Flooring has noticed a big difference and they are happier.
Things that he has impacted my life about
1st putting God first in my life
2nd your understanding the needs of my family – even though it's a work in progress
3rd stop cussing and striving to be a better Christian man
4th Being able to reach out to others and help them with their lives because Jesus is the answer
5th Understanding that world we live in is a little better place than I had expected – able to accept
6th understand that all Christians are Freaks ---- Look up the definition and you will understand --- we are different
7th understand a Christian community and what it feels like to believe in one God
8th able to talk about religion and not run from it
9th Brought me around better people that care and understand what its like to walk down a path that is hard because Satan is always attacking us
10th just the love of Jesus gives me the feeling that I can succeed in everything I do as a person.
on earth as it is in heaven....
Let's be honest, 2018 was a crazy and amazing year. From excelling growth WITH people connecting in on the vision of Union Point, all the way to experiencing catastrophic damage from hurricane Florence, we have had extreme highs and lows. Looking first at our efforts to help the community in recovery during the storm, we couldn't be prouder at how you as a church stepped up to SERVE. Because of your sacrifice, families were met with aide in their time of desperation and found the hope of Jesus lifted through others. Thank You!
Secondly, we have continued to experience steady growth in our community this past year. This has resulted in us BEING ABOVE 80% capacity in our current facilities/service situation. to answer your questions, yes we are continually seeking the lord's direction in this and ever looking/praying for the right opportunities to open up. While we remain unanimous in making sure we do not become a people bound to the trappings of buildings or physical locations, we do recognize God is doing something in our midst that we must be ever sensitive to His leading. At the moment, we may not be certain of the steps ahead in all these current challenges BUT what we do know is, as Jesus is continually lifted, disciples being made and the gospel proclaimed we will continue to see the advance of His kingdom reign in the lives of many. This is the heartbeat of our mission and vision as a church. EVEN MORE SO, as a movement .One of OUR CURRENT CHALLENGES is in the call to see other churches planted WITHin our region.This has been a part of our vision since day one, and we have sought to build as many partnerships with new churches launching in NC as well as nationally. This past year we contributed over $10,000 alone to two different churches in NC and as well NYC, not counting the percentage that is reflected within our greater Wesleyan mission giving that goes to church planting/multiplication. Along with these continual efforts, we feel an even greater burden for those within our reach here in eastern NC. Our Goal is to see 5 churches planted within 10 years. This year we will celebrate 4 years since launch and our hearts are burning even greater with a passion to see this goal happen.
AS we seek to raise up new leaders with a call to go and carry out this Kingdom mission, we ask that you consider two things. First would you pray how Jesus may desire to use you for this mission? Secondly, would you pray for God to open doors as we seek to walk out this call and vision? From Kinston to Washington, Havelock to Beaufort, Richlands to Jacksonville there are communities all around us which Jesus is not done with and the commission to go and make disciples still exists for. We understand that this seems to be an audacious vision, but we feel it matches an audacious GOD, an audacious Gospel and HIS audacious grace WHICH has been so lavishly poured our for us all through Jesus.
Finally I want to personally thank and commend the excellent job each of our elders, overseers and staff do in sacrificially leading and serving all the kingdom work within this body. If not for these people much of what is carried out would be simply impossible. ON BEHALF OF ALL THE PARTNERS, thank you team!
This coming year we are as ever committed to seeing Jesus and Others lifted here in New Bern and beyond. Lives are being transformed, hearts restored, faith strengthened, and future leaders are being equipped and raised through this local body. As one of the Elders, I consider it an honor to serve Jesus' church. I truly believe that if we keep the Gospel the main thing, the scriptures in open focus, the courage to continually walk in humble community and the commitment to Lift Jesus and others in our lives, we are just seeing the first fruits of an everlasting kingdom reign that will MAKE on earth as IT IS in heaven.



Aaron Golden
Vision| Teaching