UNION POINT CHURCH
2020 / 2021 Annual Report
Since our humble beginnings, Union Point Church has always been about one mission, "Lifting Jesus and Others UP." The 2020/2021 year brought us many turns in the road. New opportunities met with new challenges. Through all we saw the church grow and expand in our mission efforts. We are thankful for what Jesus has done in and through each of us in this family as co-laborers and ambassadors of His kingdom.
As well, we invite you to read through with an ever prayerful focus of laying forward prayers for the upcoming year. Let's pray together that Jesus would continue to do immeasurably more as we seek to Lift Him and others UP.
The Leadship of Union Point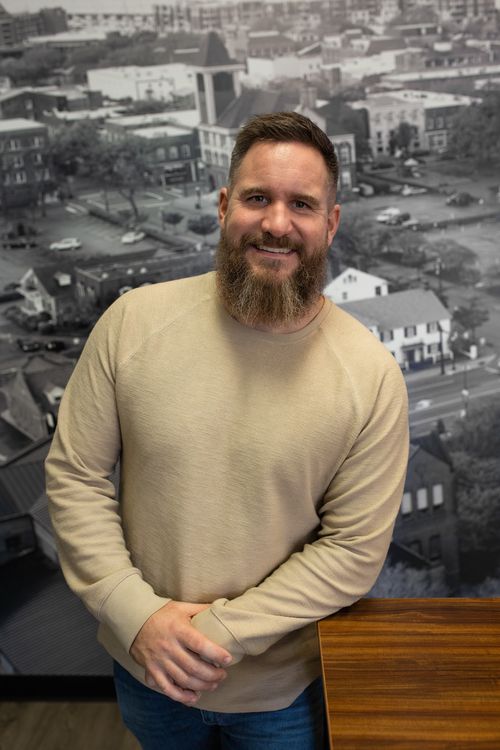 Aaron Golden
Vision | Teaching Pastor

As good stewards of all that Jesus is doing, we measure as a means of weighing effectiveness, not as a means of worthiness. Whether it is our volunteers, the number of community groups, partners, baptisms or baby dedications, we find the faithfulness of God in seeing lives lifted with/in Jesus.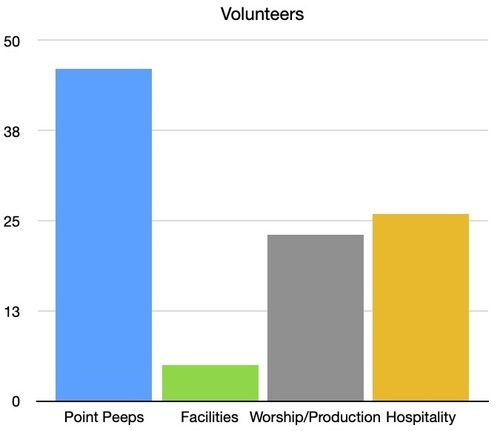 Total Volunteers in each service area.
The growth track simply relates how our growth has progressed over the last year, as well the last few years during Easter Sunday. This Sunday gives us good measure on the impact that is being had around us as we lift Jesus UP.
EASTER ATTENDANCE OVER THE YEARS
2020 | 2021 Average Weekly Attendance
75 Adults and 25 kids in 10 different Community Groups.
People baptized into the kingdom.
Total Partners in 2020|2021
Partners Added in 2020|2021
Dollar amount given towards Wesleyan Movement mission efforts.
Christmas angel tree families provided for.
OCC Boxes Collected:
(190 collected in 2019)
(130 Collected in 2018)
Dollars given towards local mission efforts.
At Union Point, we place high priority in teaching the scriptures. Whether through books of the Bible, connecting with the Narrative, or examining how the Gospel penetrates our lives, we believe the word empowered by the Spirit breathes life into our souls. Click one of the links below to listen in on past series or catch up on the most recent.
Teaching | Financials (CFO)
God redeemed, restored, and resurrected.
The last year, in may ways, feels as if time stood still, and yet, in reality, time continued on and even moved rather quickly. March 2020 was the beginning of more questions than answers regarding the COVID-19 pandemic and our church was faced with navigating some uncharted waters. God brought us through those waters and time and time again has proven Himself faithful in the last 12 months.

Our staff and leadership team rose to the occasion and continued to rally around the mission and vision of UP while navigating all the changes due to the pandemic. They not only owned those changes but also saw great growth and ownership in the teams of volunteers and leaders that oversee them. I am so grateful for the staff and eldership team here at Union Point. The daily mission and ministry that is carried out would not be possible without each one of them. Also, to you, our partners, leaders, and volunteers, we are so grateful for each one of you and how you sacrificially give of your time, talent, and treasures each week.

We also saw God's kindness and faithfulness toward us financially. As you will see in this report, because of your generosity, we were able to make some huge kingdom impacts financially. From a local ministry and mission standpoint, we were able to fund two adoptions within our church family, help multiple families navigate through some financial hardships, and rally around five families to provide them with Christmas gifts, in addition to the 145 shoeboxes we sent to Operation Christmas Child. Globally, we were able to send over $20,000 to the Wesleyan Movement which funds global mission projects and endeavors worldwide. None of this would have been possible without your faithful giving!

God's faithfulness was also on display in our numerical growth. He continued to send us new people and families each week. Many people have shared their stories of how God redeemed, restored, and resurrected their families for His glory.

My prayer as you read this report is that you would join us as we celebrate God's faithfulness to us over the last 12 months and also continue to partner with us in the coming year as we strive to continue to fulfill our mission from John 12:32, Lifting Jesus and Lifting Others!

In light of the Gospel, we see that Jesus gave everything as a sacrifice and worship to God. In Jesus, we see God withheld nothing from us but gave all for our sake, for His purpose of reconciliation and redemption. This perspective is the way we continually view everything in our lives, especially when it comes to financial offerings through the local church. Because of your obedience, this year in what could have been a down turn year with all things Covid, we have seen ministry expanded, local families in need reached and missions|planting efforts funded regionally and abroad. As you read/examine, give thanks to God for His provision and pray beyond into this coming year for what Jesus might accomplish through our humble surrender.
Union Point church operates in accordance with the greater Wesleyan church, and financially functions within their oversight and discretion. As well all financial activity is overseen and directed as a registered 501-3C and by the leadership of the Elder/board team.
What an awesome and wild year
it has been for our Point Peeps!! This year has brought about so many changes to our ministry, and we are so excited to see what all God has in store for our incredible Point Peep kids, their wonderful families, and our phenomenal leaders!!! Our Point Peeps Mission is to point children towards Christ and to equip parents to lead their children to Jesus. Even through the chaos that 2020 had in store, God had bigger plans, and our leaders did a wonderful job this past year guiding our sweet kids and teaching them truth each week.

We are so excited to have had the opportunity to be in our new space for over a year and are thrilled to have 5 classroom spaces available for our birth through 5th grade kids!! We had such an incredible team of leaders to help us create spaces geared toward each specific age. We recently had the opportunity to move our Kindergarten-5th grade kids into our Multi-Purpose room in order to have a space to accommodate the number of sweet kids we see each week!! This also gave us the chance to move our 3-5 year old kids to a bigger room as well!! We are so thankful for each of these precious kids that we have the opportunity to teach and serve each week!!!
As we transitioned into the new space, we were able to add an incredible support team to our ministry that helps with weekly operations such as scheduling, curriculum, and check-in/logistics. As we made the transition to the new building, we had half of our leaders step down in February of 2020. This definitely made a huge impact on our ministry. However, when we regathered in June we were able to add a few additional leaders. As the year went on, we added several new and incredible leaders, and we are so excited to say that we currently have 46 Point Peep Leaders that faithfully serve in our kid's ministry!!! Our leaders have such a heart for this ministry and have done an incredible job pouring into these precious kids and pointing them to Jesus each week!!
In order to have each of our classrooms open for both services, we need a total of 22 leaders each Sunday. Currently we are able to open 4 classes during each service. Our awesome Kindergarten-5th grade students currently meet together during both services. We would love to be able to offer our oldest classroom for our 3rd-5th grade students very soon. Our church staff, support team, and Point Peeps leaders are continuously praying and trusting that God will provide additional leaders who have a passion and a heart for leading these precious kids to Jesus.
As we regathered in June, we began a new "Junior Leader" program for our K-5th grade kiddos that attend both services. They sit in their class during one service and serve in one of the 3 younger classes during the other service. We have received wonderful feedback from both the Leaders in these younger classes as well as the Junior Leaders!! They have done an incredible job helping and assisting each week!! They help with activities, play with the kids, participate and assist with the lessons, help with snack and clean up!! We are so excited to see this program grow!!
This year, our awesome Point Peep kids from the ages of 2-12 presented a super sweet Nativity Skit that was recorded and presented the week before Christmas!! The kids, leaders, and parents worked so incredibly hard!!
The year 2020 most definitely brought about challenges as we worked through how to best reach our Point Peeps and equip their families through the few months that we were not able to gather due to the pandemic. We were able to provide 8 weeks of take home lessons and materials for our families. We were also able to provide an Easter Lesson, and we had several of our leaders come out and help us deliver and hide Easter Eggs for 28 of our families!!
We are so thankful for God's faithfulness through this past year, and it is absolutely incredible to watch this amazing ministry grow!! I cannot even begin to express how thankful I am for the amazing support from our leaders, kids, parents, and partners at Union Point Church. I am so incredibly excited to see what all God has in store for our Point Peeps Ministry in the upcoming year!!
One thing I love about Point Peeps is seeing the kids grow in both developmental milestones and in their walk with Jesus! Mostly serving in The Burrow, it's so fun to engage with the kids and be such a vital part of introducing them to Jesus through story time, craft time, community/play time with their friends, and demonstrating Jesus' love through our words and actions to others! -Kelsey Seese

I love seeing the sweet babies each week, seeing how they adjust from crying and wanting to be held to getting down and playing. I also love watching them grow as they learn to crawl, stand and eventually walk. I'm so excited for them but hate seeing them leave us! I love being a part of the Point Peeps program! 🥰-Cindy Davis

I really enjoy seeing the shy/quiet kids come out of their shells and open up throughout the service as they get more comfortable and willing to engage. Also, I love it when they remember Bible stories and make the connections to the projects or games. -Amelia St. Pierre

We both enjoy loving the children and teaching them about Jesus! It is an honor to get to serve Him in this way! – DeeDee and Joe Carson

I ❤️the sense of family that comes from getting to know the kids and their families. -Cheryl Eubanks

One thing that I love about Point Peeps is that the children are so happy and eager to learn the lesson. They are obtaining the information so when asked two weeks later what we learned, more than 50% of the children can answer the review questions!! -Bethany Narron

Something I love about Point Peeps is the overall community that everyone creates. Whenever something arises there is always someone or a group of people who jump in to fix it. ♥️
-Molly Gastineau

I love working with the Point Peeps because I learn so much in the classes as well. I didn't grow up in church like some people did, so I never got to go to Sunday School, so I don't know much about the Scripture. I learn something new every Sunday working with the Point Peeps. – Sadie Jackson

One thing we love about Point Peeps is the sweet kids participating in the lessons and the things they draw that relate even when you think they aren't listening. We also love that the leaders are all so helpful and willing to work together or pitch in when someone is LOST (like us when we first started serving)!!
-Clint and Ginny York
Mandy Van Domelen
Point Peeps Director
We had the opportunity to re-launch our student ministry in October of 2020!! Our Exchange students and leaders meet each Sunday night at 6:30 for worship, a short message, a game or activity, and a small group breakout session. When re-launching the student ministry, we were able to add in our 5th-8th graders as well. Our Exchange now serves kids from 5th-12th grade.
We have had so many sweet students and incredible leaders jump in to the Exchange this year!! We currently have 8 leaders that serve faithfully each week with these awesome students. We consistently have between 12-16 student join us each Sunday!!!
We start each evening with a game or activity, then we have some awesome student leaders to lead us in worship, we hear a short message from some incredible speakers, and then we split up into our middle and high school breakout sessions.
We know that the Lord has big plans for this incredible ministry, and we are so excited to watch it continue to grow!!

Mandy VanDomelen
Point Peeps
That is the only word I can use to describe the year 2020 and into 2021.

Even though the arrival of COVID and the stay at home order was a difficult time, I am able to look back and see the blessings that came from it. In the first few weeks of moving to our new facility, we had no idea how to work any of the equipment. The weeks of rehearsals and recordings really helped us become more accustomed to our new surroundings and the new hardware that we were working with! When we came back together in June, it was like a brand new team... who actually had confidence in what they were doing!

Moving to two services really proved the commitment of everyone involved. Not only were we needing to rehearse during the week, but the new call time became 7:15 am on Sunday. They have continuously shown up every. single. week. And often, well before 7:15!!! Simply Incredible.

In the last year, we were able to bring on live streaming of the services. This brought on an entire new area of expertise needed. The team stepped up and took it on.Our team continues to grow. We had our first information meeting and audition in January. Both went extremely well. We have been able to add so many individuals that are full of talent and love for Jesus and His church.

Everyone continues to impress me and go above and beyond for the kingdom!
I look forward to what is to come!

Lenee' Golden
Worship | Production

The hospitality team was phenomenal in 2020!! The beginning of the year started out Great!! We were moving into a new building, which meant that the team was growing and changing. We began serving coffee from our new coffee bar, added a welcome desk and many more greeters. We began the year on fire and ready to serve!! Then covid struck… and we did not gather for 12 weeks.

The team stayed in touch through the quarantine and offered to serve in any way they could. We started back up on June 7th. It was SO GOOD to gather with everyone again! Leaders jumped right back in and served where and when they were needed. No matter which area they are serving, they always help where they see a need. Our leaders not only serve on Sunday mornings, but they are more than willing to serve when we have special events as well.

We now have 28 leaders on the hospitality team and we are continuing to grow quickly!! Our mission as a team is to be sure everyone feels the love of Jesus as they walk through our doors. We want everyone to feel welcome and see that we are a family of disciples, with the hope that they will become a part of our family. This year we are praying for more leaders to join our team and build new relationships. I am beyond thankful for this team!!



Kristi Kennedy
Hospitality
Union Point has completely changed my perspective about what it means to be a Christian. I came to Union Point with an expectation of it to be like every other legalistic church I have been to in the past. I was mentally unfaithful to Jesus, questioning him and the practices of Christianity more often than praying to Jesus and defending the good word. Upon leaving our first service I could not stop thinking about how Aaron portrayed Christianity as being more liberating than condemning. I cant even explain how this has affected my life without bringing tears to my eyes. I feel as though I am closer to God than any point in my life. Union Point Church is all about being Authentic and I feel like I'm home as soon as I walk through the double doors every Sunday.